2020 Convention: March 17-21, 2020 in the Washington, DC area
The Religion Communicators Council (RCC) is one of over 100 cooperating organizations participating in the once-a-decade Religion Communication Congress 2020 (RCCongress 2020) for our annual convention. The theme is Communicating Faith in the Public Square. The RCC business meeting and DeRose-Hinkhouse and Wilbur Awards will be scheduled during the event.
Religion Communication Congress 2020 tackles complex themes
An impressive lineup of speakers and workshops to be featured
For over half a century, Religion Communication Congresses have offered a forum where professional religion communicators from a wide range of faith traditions gather to network and learn cutting edge strategies and skills through hands-on opportunities, academic and applied research, practical workshops, and thoughtful plenaries.
What we know, how do we know it, what does it mean
By Paul Chaffee
Best survey practice tips from Taylor Morrison
Socrates' judgment that "the unexamined life is not worth living" resonates 2500 years later, applying not only to our lives but to the work we do, including magazines, books, videos, podcasts, campaigns, and everything else religious communicators pursue. Taylor Morrison's expertise is in survey diagnostics and branding. She brings solid business credentials ranging from successful Kickstarter projects to participating in a leadership development program at a Fortune 100 company. Now she has her own consultancy.
She presented "So, how did we do?": The Oft-Forgotten Question as a workshop during the recent joint convention of the RCC and ACP in Chicago in early April.
Photo artist leads editors through paces in photography, design
By Jeff Huett
Ted Glasoe leads workshop at 2019 convention.
Photo by Jacqueline Fuller.
CHICAGO — Illustrating his points on photography and graphic design with beautiful images he took himself, Ted Glasoe, an artist and designer specializing in images of Lake Michigan, led a session of publication editors as part of the joint convention of the Religion Communicators Council (RCC) and Associated Church Press (ACP) on April 13.
Glasoe has been a professional graphic designer for more than 20 years and a professional photographer for more than 10 years. His presentation was designed to give editors a fundamental understanding of photography and graphic design as they relate to print and web use.
7 tips to help find podcast success
By Kurt Gwartney
Christian Piatt leads workshop on podcasting noting consistency is key.
Photo by Kurt Gwartney.
With a quick list of seven tips for podcast success, Christian Piatt with Square Core Media told the Associated Church Press (ACP) and Religion Communicators Council (RCC) members that podcasting should be part of any group's brand and media outreach.
The professional development workshop was a part of the recent joint convention for the two communication organizations, ACP and RCC, that was set in Chicago.
Piatt, who came early to the podcast universe through work with Homebrewed Christianity's Culture Cast, now has a company which provides services to organizations wanting help with their own podcasts.
His number one podcast success tip is consistency. "It is a crowded marketplace," Piatt said. "People have to get you in their routine."
Handling media interviews like a pro
Prepare for the difficult interview before it happens
By Curtis Ramsey-Lucas
Anuttama Dasa co-led the "In the Spotlight: Handling Media Interviews Like A Pro" workshop
Photo by Curtis Ramsey-Lucas
Are you prepared for a confrontational interview? Have you considered the most difficult, awkward or embarrassing questions you might be asked? Have you planned brief responses to those questions in advance?
If not, you may not be as prepared as possible for the media environment in which religious communicators find themselves today.
With their workshop, "In the spotlight: handling media interviews like a pro," Anuttama Dasa and Ryan Koch covered the basics of media relations was well as tips for effective interviews. The workshop was one of several Accreditation in Public Relations (APR) offerings at the 2019 annual convention of the Religion Communicators Council that met in Chicago.
Clear vision, effective communication woo writers
By Steven Martin
Charles Whitaker offered tips for working with freelancers at the RCC/ACP convention.
What makes a good editor? Someone with a clear vision and able to effectively communicate that idea to writers, especially freelancers.
Charles Whitaker, in his workshop, "Working with Freelancers," continued the Management Track into Friday morning at the Religion Communicators Council national convention. The room was filled with questions and conversation around the challenges that face our publications, editors, and how we gather news.
A good editor, Whitaker says, is only as good as his or her list of contacts. A good editor brings resources to the publication based on years of relationships, connections that have been grown and nurtured through good communication and collaboration.
Violence and faith in light of today's society and reporting on violence
Rewrite the negative to bring about the positive
By Casey Tom
Rev. Jonathan Brooks speaks at the RCC/ACP 2019 convention
Photo by Julie Brinker
Rev. Jonathan Brooks, Senior Pastor of Canaan Community Church and author of "Church Forsaken: Practicing Presence in Neglected Neighborhoods," shared how his neighborhood rewrote its negative narrative to bring positive changes to the community.
He was featured speaker for a Friday lunch plenary session at the Religion Communicators Council (RCC) and Associated Church Press (ACP) joint national convention in Chicago.
Rev. Brooks was raised in West Englewood, a neighborhood on the south side of Chicago, where gun violence is common, and the typical advice given to young people to better their lives is to work hard and move away. Brooks emphasized that communities need to change their attitude and embrace, love, and take ownership their neighborhoods.
How to not be a grumpy data cat
By Nadine Monn
Tips from workshop leader Heidi Thompson
In her workshop, "Drinking from a Hydrant of Data and Using It Wisely," Heidi Thompson presented the philosophy she follows to make sense of the data she receives in her publishing and communications work. Though she loves numbers, Thompson admits to occasionally resembling Grumpy Cat when confronted with the overwhelming amount of data that modern communication tools like Google Analytics, Facebook, and MailChimp can yield to communicators.
First is to know your goals. The path you follow is different if you want to increase engagement in a campaign versus increasing revenue for a publication. Only when the goals are clear can you determine what is working, what is not working, and what your next steps will be.
You will have a crisis so prepare in advance
By Brian Gray
Katherine Kerr Kabatzky leads the Crisis Communication workshop.
Photo by Jacqueline Fuller.
It's not a question if your organization will have a crisis, but rather when it will happen. So best be prepared in advance to handle whatever comes.
That was the message of Katherine Kerr Kubatzky, APR, during a breakout session on crisis communications during the Religion Communications Council and Associated Church Press joint conference in Chicago.
Kerr Kubatzky, who owns Polaris Non-Profit Communications in Georgetown, TX, described a crisis as "anything that threatens the operations and /or reputation of an organization." The crisis need not be a world-shaking event. On a local level it could be prompted by inappropriate behavior, vandalism, an accident or assault or by natural causes such as a flood, hurricane or fire.
Religion Communicators Council honors 22 for work during 2018
Wilbur Award winners receive a handcrafted stained-glass trophy and national recognition for their work.
2019 Wilbur Award winners
Photo by Cherilyn Crowe
CHICAGO — Wilbur Award winners represent a diverse, but exclusive group of communicators who have thoughtfully brought religious issues and spiritual themes into the public discourse.
The Religion Communicators Council (RCC) announced 22 Wilbur Award winners April 12 at the annual convention celebrating the professional association's 90th anniversary. The awards honor excellence by individuals in secular media – print and online journalism, book publishing, broadcasting, and motion pictures – for communicating religious issues, values and themes during 2018.
Fr. Jim Gardiner, an experienced communicator from the Catholic Church who understands both ancient liturgy and the demands of the digital age, was host for the awards presentation.
#MeToo – Bring empathy, passion and conviction to discussions
By Julie Brinker
Dr. Glory Dharmaraj, Dr. Karri Whipple, and Dr. Sarah Macharia
Photo by Julie Brinker
While the #MeToo movement may seem like a difficult topic to discuss openly, three scholars were able to speak to this, not just with empathy, but with passion and conviction at the second plenary of #RCCACP2019.
The #MeToo movement has created a platform calling for change around gender issues in nearly every sector of society. This panel took an intersectional approach to exploring and challenging the present state of gender representation in media and media production. The panelists, all engaged in a range of ongoing efforts to raise awareness about gender disparities, were Dr. Glory Dharmaraj, U.S. coordinator for the Global Media Monitoring Project (GMMP) of the World Association for Christian Communication; Dr. Sarah Macharia, global coordinator of the Global Media Monitoring Project; and Dr. Karri Whipple, a speaker, writer, and activist who promotes transformative justice work within communities.
Getting faith news into secular media
By Eric Shafer
Ryan John Koch leads Media Relations for Managers workshop.
Photo by Julie Brinker.
The focus of this workshop was getting faith news into secular media. Presenter is Ryan Koch and it all took place at the recent Religion Communicators Council National Convention meeting in Chicago.
Ryan John Koch is the LDS Director of Public & International Affairs in NYC which means he is their voice at the United Nations. In his former life, Koch worked for the U.S. State Department at embassies in Sweden and the Ukraine as a press officer.
He began by talking about what makes a good story – qualities such as uniqueness, connection (all news is local), relevance, timeliness, attention getting, fits larger trends, conflict. He noted that a good story idea must have support of your supervisor and be of interest to a news reporter and his/her editor.
Much of this is based on having an ongoing relationship with the news media, regular contact so that they know you and trust you and vice-versa. That way when there is a difficult story you can be proactive rather than reactive.
Improve skills, earn credentials via APR
By Deb Christian
Jeff Huett, APR, leads workshop on the benefits of earning the APR credential.
Photo by George Conklin.
Are you looking for a way to improve your skills and earn a credential that can advance your career? Consider beginning the process to earn Accredited in Public Relations (APR) certification.
"Be a Leader in Your Field" is the title of a workshop conducted by Jeff Huett, APR, at the joint Religion Communicators Council (RCC) and Associated Church Press (ACP) National Convention set in Chicago in early April. Huett spoke enthusiastically about both the opportunity to learn or hone important professional skills and the possibility of career advancement that can result from the combination of study and actual process to get the APR designation.
This credential is earned through a rigorous, but rewarding process, that shows commitment to professional advancement and broad strategic knowledge of the public relations process. RCC is one of nine organizations that make up the Universal Accreditation Board (UAB) and offers access to the APR process as a benefit of membership.
'Backpack' journalism: the new reality
By Joshua Kagi
Gregg Brekke leads "Backpack Journalism: Multi-platform story creation" workshop.
Photo by Julie Brinker.
In less than a generation, the role of a journalist has changed significantly. Stories which were once produced by teams of four or five people in traditional newsrooms are now expected to be produced by a single journalist. There are new demands on content creators. Writers are now expected to be photographers. Video producers are expected to write. Nearly everyone is expected to be able to produce a multi-format story.
"In a period of 30 years, everything has changed," stated Gregg Brekke, in opening his 2019 RCC-ACP Convention workshop, "Backpack Journalism: Multi-platform story creation."
Using the DPDPD acronym, Brekke presented a process toolkit to help journalists and aspiring storytellers with the current reality.
RCC holds annual business meeting
By Cherilyn Williams
Jackie Fuller, president
Shirley Struchen, executive director
The room was chilly but the spirit warm when President Jackie Fuller called the annual meeting of the Religion Communicators Council (RCC) to order on Thursday, April 11.
Executive Director Shirley Struchen reported that RCC has 420 members at last count and 57 were registered for this convention event. The Associated Church Press is meeting with us and have approximately 47 in attendance.
Treasurer Kurt Gwartney was clear that the group's revenue streams are limited and in decline. Some of the faith groups that have been most supportive are losing communicators. However, Vice President Eric Shafer challenged members to give a $90 gift to celebrate the RCC's 90th birthday. A total of $720 was collected during the meeting. (You can still contribute on the RCC Donate page.)
In another link to the birthday number, the membership team headed up by Fuller and former president, Casey Tom, announced a special rate of $90 for new members. In addition, the membership team is specifically targeting Jewish, Muslim, African Methodist Episcopal (AME) and Sikh faith communities to invite membership.
When it comes to strategic communications, begin at the end
By Susan Gottshall
Heidi Thompson leading workshop at convention
Photo by George Conklin
The smallest details so often tell the biggest tales. In the case of the Communication Research and Planning workshop at RCC's 2019 annual conference, it was the punctuation in the featured PowerPoint's title that gave it up.
That punctuation, an exclamation point, in Heidi Thompson's presentation – "One Page Communication Plan!" – made it clear that, above all else, the plan's the thing.
The one-page plan is "getting back to basics," but it's much better than staring at and starting from a blank page of paper, said Thompson, an organizer, marketer and publishing executive with 25 years of nonprofit experience.
"Get agreement on the 'Big Stuff' up front," Thompson said, and you have something to refer to throughout the process. That ensures everyone working on a project is on the same page, and it forces the team to set priorities because there's only one page for all major aspects of the plan. Keeping the plan to one page also keeps it accessible to everyone.
Religion communicators convene to see in new ways
By Brian Fesler
Judith Valente speaking at the RCC/ACP 2019 Convention
Photo by Julie Brinker
More than a hundred journalists, editors, publishers and other communications professionals convened April 10 at the Fourth Presbyterian Church in Chicago for the combined annual conventions of the Religion Communicators Council (RCC) and Associated Church Press (ACP).
Entitled "Seeing in New Ways: Possibilities and Perceptions," the convention brought together two of the oldest professional associations in the field of religion communications. RCC, formed in 1929, is the oldest interfaith professional organization in the world and has the mission "to provide opportunities for networking and professional development for people working in communications for a wide variety of faith-based organizations," while the ACP, tracing its origin to a 1916 meeting, is brought together by a "common commitment to excellence in journalism as a means to describe, reflect, and support the life of faith and the Christian community."
The convention opened with a challenge from its organizing committee: in a world of chaos, "What are we doing as communicators to make it better?" The opening plenary by award-winning journalist and author Judith Valente, senior correspondent for NPR affiliate WGLT Radio and writer for U.S. Catholic and National Catholic Reporter, explored that challenge and offered insights drawn from the deep well of Valente's observation tempered by her years of experience with the Wall Street Journal, Washington Post and PBS-TV.
Engaging on social media - remaining relevant in a crowded newsfeed
By Kathy Williams
Matt Preven leads workshop at RCC/ACP 2019 Convention
Photo by Julie Brinker
Matt Preven, sales engineer at Sizmek, absolutely delivered a home run with his workshop presentation on the importance of engagement in social media on opening day of RCC's joint convention with Associated Church Press (ACP) in Chicago.
This ten-year veteran of digital media and advertising's overall message was, "Let's focus on the good that social media can provide to our organizations."
Preven focused specifically on Facebook and Instagram in his talk. He stated, "In 2019, you need a social media strategy. Shared experiences define our lives, and social media makes it easier to share these experiences."
RCC recognizes, awards excellence at yearly convention
Three of the 2019 DeRose-Hinkhouse Award Best of Class winners (L to R): Heidi Parsons, Brilliant Star / Bahá'í National Center; Jeff Huett accepting the award on behalf of Aaron Weaver, Cooperative Baptist Fellowship; and Rae Grant, accepting the award on behalf of Tara Barnes, Response magazine, United Methodist Women.
Photo by Julie Brinker
CHICAGO — In 2019 the Religion Communicators Council (RCC) presented more than 90 total winners of the DeRose-Hinkhouse Memorial Awards recognizing quality and achievement in about 60 categories of communication and public relations on Wednesday, April 10 at the annual convention.
Active RCC members, who demonstrate excellence in religious communications and public relations, compete for the honors every year. These peer awards are named in honor of the late Victor DeRose and the late Paul M. Hinkhouse who were leading lithographers in New York City and longtime supporters of RCC. A strong interest in and a concern for excellence in communication were shared by the friends and business partners.
This year's judges included professionals from educational institutions, religious organizations, and private advertising and marketing teams. News, feature, promotional and other materials in all forms of media – print, electronic and digital – with either local, regional or national reach, were recognized.
Moni Basu Receives 2019 Wilbur Award for CNN Online News Story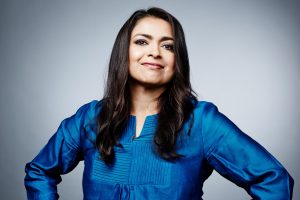 Moni Basu
Moni Basu, University of Florida College of Journalism and Communications Michael and Linda Connelly Lecturer for Narrative Nonfiction, is the recipient of one of 22 2019 Wilbur Awards from the Religion Communicators Council (RCC).
Her entry, "A Gunman Killed His Brother. Now Farris Barkat is on an American Journey," received the top prize in the Digital Communications: Online News Stories category. The story focuses on the murder of three Muslim family members in North Carolina and their brother's pursuit to honor their memory and promote peace and acceptance in the community. She produced the story in 2018 when she was a senior writer on CNN Digital's Enterprise team.  She joined the College in fall 2018.
Read more on the College of Journalism and Communications, University of Florida website
RCC/ACP Convention offers workshops, awards, plenaries and more
RCC (Religion Communicators Council) and ACP (Associated Church Press) will join for their respective annual meetings on April 10-13, 2019 in Chicago during their joint convention, "Seeing in New Ways: Possibilities and Perceptions." The planning is being done by a team from both groups. RCC and ACP will share workshops, plenary speakers, networking opportunities, fellowship and faith expressions.
Registration for the convention – which includes all presentations, workshops and scheduled meals, and awards dinners – is $395 until March 25. Registration is open.
Wilbur Awards to celebrate 70 years in Chicago, winners announced for 2019
Religion Communicators Council honors 22 for work during 2018
NEW YORK — For 70 years, Wilbur awards have honored excellence in secular media – print and online journalism, book publishing, broadcasting, and motion pictures – for communicating religious issues, values and themes. Since the time when they were first given in 1949, award winners are represented by a myriad of individuals, agencies, and networks. Past winners include public figures such as Oprah Winfrey, Tyler Perry, and Morgan Freeman and popular films "Chocolat," "The Help" and more recently "Hidden Figures."
This year is no different. The Religion Communicators Council announced 22 Wilbur Award winners on March 8 for work completed in 2018. Contributing to an impressive legacy of uplifting and inspiring secular media, this year's winners include Mitch Albom's New York Times bestseller, "The Next Person You Meet in Heaven;" an A&E Lifetime television drama, "Faith Under Fire: The Antoinette Tuff Story;" Vanity Fair's "Pope Versus Pope," article on issues surrounding the Catholic Church; a stunning documentary by Irish national television and radio broadcaster RTÉ, "Jesus: Countdown to Calvary;" and the Pittsburgh Post-Gazette who won in two categories for their in-depth reporting on the devastating shooting that took place at the Tree of Life synagogue, considered to be the deadliest anti-Semitic attack in US history.
Other Wilbur winners include CBS News, NBC-WTWO TV, The Associated Press, CNN and several other contributors both locally and internationally.
---